by Iri_Maus
The battle among Texas lawmakers over a bill that would impose some of the strictest limits in the nation on voting access escalated Monday as Democrats and Republicans vowed that they would not back down over a highly charged issue that has galvanized both parties.
Stung by the last-minute setback for one of the GOP's top legislative priorities, after Democrats killed the measure with a dramatic walkout Sunday night, Gov. Greg Abbott suggested he would withhold pay from lawmakers because of their failure to pass the bill.
"No pay for those who abandon their responsibilities," Abbott, a Republican who strongly supported the bill, wrote on Twitter as he pledged to veto the section of the budget that funds the legislative branch.
Republican Briscoe Cain stood before his colleagues in the Texas House of Representatives a few weeks ago and struggled to answer questions about his repressive anti-voter bill or offer a factual justification for it. When pressed, he begrudgingly agreed with the Secretary of State's assessment that the 2020 elections in Texas were safe and secure – that there was no evidence of rampant, coordinated fraud in 2020 or past elections.
So why did Cain exert so much energy on behalf of a sweeping bill that would criminalize procedural mistakes, embolden partisan poll watchers with unrestrained powers, and add more barriers to voting in a state well known for making it hard to vote? That would make it easier to "prove" fraud and overturn elections?
No stranger to controversy, Cain made headlines last fall when he flew to Pennsylvania to assist the Donald Trump campaign in its failed bid to overturn the will of the people. State Rep. Chris Turner asked Cain directly: "Is this bill simply a part of a continuation of 'the Big Lie' perpetrated by Donald Trump, that somehow he really actually won the presidential (election)? Is that really what this is all about?" Cain's response from the House floor was an emphatic no.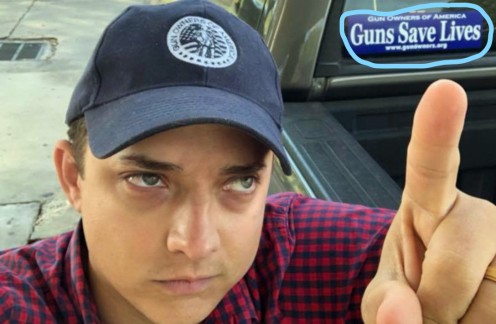 Heritage behind voter repression bills & AR15's
Cain explicitly denied that his bill was about 2020, but we now know that's not true. His bill is the product of a stealth operation by Heritage Action, the Heritage Foundation's dark money lobbying tentacle, to undermine our democracy and pick up where the Jan. 6 U.S. Capitol insurrectionists left off.
The leaked video from Heritage Foundation's 2021 Leadership Conference, first reported by Mother Jones and Documented, detailed Heritage's covert effort to pass restrictive voter laws in several states, including Texas, Georgia, Arizona and Florida. Jessica Anderson, Heritage Action's executive director, pledged to wealthy donors in that meeting that their work will "right the wrongs of November."
She also revealed that Heritage wrote 19 provisions, which have not been publicly identified, for the bill introduced by Cain and made a confident promise that Abbott would sign it quickly. This promise was delivered by Heritage over a month before the voter suppression bill came to the floor for debate.   
Because Texas is a murderbox of dumb, Republicans immediately threatened to retaliate.   One of those brain geniuses is Texas State Representative Briscoe Cain, who managed to get himself reported to the FBI 2 years ago after very clearly threatening a presidential candidate Beto O'Rourke.
Twitter gave Cain 12 hours to remove the post. After he did not, the company removed Cain's "My AR is ready for you" tweet, saying it was against the site's policy against violent threats.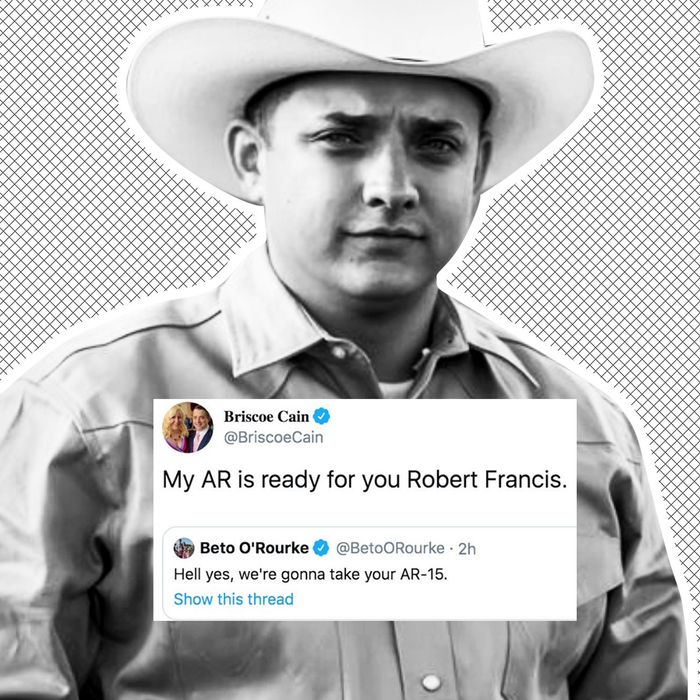 Not knowing when to quit, Briscoe fired back with "You're a child Robert Francis," which is clearly a sick burn coming from a guy who definitely looks like a grown man and not Texas' first tween politician. Why do people keep saying that?
Cain was suspended from Twitter for 141 days.
Briscoe Cain assisted President Trump attempts to overturn the election results of 2020 United States presidential election following his re-election loss by using baseless claims of voter fraud.   In February 2021, Republican Texas House Speaker Dade Phelan appointed Cain as the chair of the Texas House Elections Committee.   The following bills that Cain co-sponsored were overwhelmingly accused as attempts to restrict voting access to voters of color by Voting and Civil Rights groups.   Cain defended the proposed restrictions as necessary to maintain the "purity of the ballot box".    Several companies that do business in Texas spoke out against the legislation.   In response, Cain proposed financial penalties to any business threatening to protest the Republican proposed voter restrictions.
Texas Democratic Convention prank
On June 22, 2018, Cain and three other men snuck into the Texas Democratic Party's state convention being held at the Fort Worth Convention Center in Forth Worth, Texas where Cain and three other men handed out 100 yard signs which read, "This home is a gun-free safe space" to convention attendees.  Eventually, convention goers recognized who Cain was, and he and the other pranksters were forced to leave.  When asked about the stunt, Cain said he distributed the signs as "irony" and stated, "It's amazing how many people took one and thanked us. They said they would put it in front of their house. I think it's funny. Nobody should put this in front of their house."
Texas Militia 
Briscoe serves with the rank of captain in the Texas State Guard, not the Texas National Guard.  Headquartered at Camp Mabry in Austin, Texas, the TXSG functions as an organized state militia under the authority of Title 32 of the U.S. Code and Chapter 431 of the Texas Government Code. The Governor of Texas has sole control over the Texas State Guard, because it is not subject to federal activation.
 Mocks 'dudes in dresses getting beat up'
Texas state rep. Briscoe Cain made the appalling comments during a discussion on Senate Bill 6, one of several bills filed in Texas during this legislative term that would seek to minimize LGBT rights protections.
At a panel event thrown by the Texas Tribune, Cain explained his reasons for supporting the bill, which is aimed at gutting local LGBT rights ordinances.
He said: "We shouldn't be penalizing people [who discriminate]… it wasn't a problem when I was a child.
"Was it a problem when you were a kid? I don't remember dudes walking around in dresses getting beat up. It wasn't a thing, and now I think we're encouraging it."
The New Civil Rights Movement points out that Cain himself has been on the receiving end of anti-LGBT smears in the past.
During the Republican primary in which he defeated incumbent Wayne Smith, Cain was subject to a third-party flier that alleged "Briscoe Cain is well known to those who frequent Montrose area night clubs and gay bars".
"Houston voters want to keep men out of women's locker rooms and restrooms. District 128 voters should keep Briscoe Cain out of men's restrooms as well."
One of Cain's comments recently compared gay people to termites, claiming homosexuality was created by the Soviet Union to destroy America.
""The homosexual movement has really infiltrated… think of them like termites.
"They get into the wood of the house and they eat away at the very moral fabric of the foundation of our country.
"This is exactly what the Marxist movement was all about… If you remember, [Soviet leader] Khrushchev came and said we're going to get your country one way or another, and the way they want to do it is to destroy the moral fabric and create moral anarchy in our country so that our people no longer live righteous lives but they're living lives that are ungodly.
When you do that, you lack moral courage, because you can't very well stand up and oppose people doing wicked things if you're participating in the same activities.
"Now you've got pornography… it's legal to have pornography on the internet, but we, in some jurisdictions of the country, you can't stand up and say that homosexuality is wrong or immoral activity, whether it's the promotion of adultery or premarital sex, we can't say that that's wrong because that's hate speech.
"But it's perfectly legal according to allow pornography to be perpetrated upon our public, and even in our public schools to be taught and shown."
Texas state legislator Briscoe Cain, who mistakes trolling for governance.