by Johnnie Belle Reagan
Going back to the day June 27th, 2016, Jerry Laza stood in front of the Palestine's City Council and pleaded with them not to continue to move forward with the lawsuit that was filed against him without their knowledge. That was way before any proof had been uncovered as to how truly unauthorized it was, but even so he had the wisdom to know that an honest resolution would never be concluded where attorneys stood to make a profit. The contracted City Attorney, Ron Stutes, had just guaranteed that no negotiation would be discussed without his involvement.
It was better to be naïve, safe in a bubble and never having to see the ugliness of our Justice System. Since seeing how things really work, it can no longer stay in the dark. There is an oath that every public official swears as they enter office. This is also an oath attorneys swear as they are licensed. It asks them to fulfill the duties of the elected office/title in accordance with the law. It does not say "when you feel like it" or "when something other than the law sounds better."  It says, "The Law."  It is now painfully clear that the only person who is required to follow the rules is the citizen, resident taxpayer.
That leads back to Jerry Laza (The Lawnmower Man) vs. the City of Palestine case over the past 6 years has highlighted many new revelations about the Law and Justice System. It is remarkable that Laza has been able to hang with the City of Palestine. Although, it really should be Laza vs. the Texas Municipal League. If you thought his battle was big against the City of Palestine, the battle against TML is massive.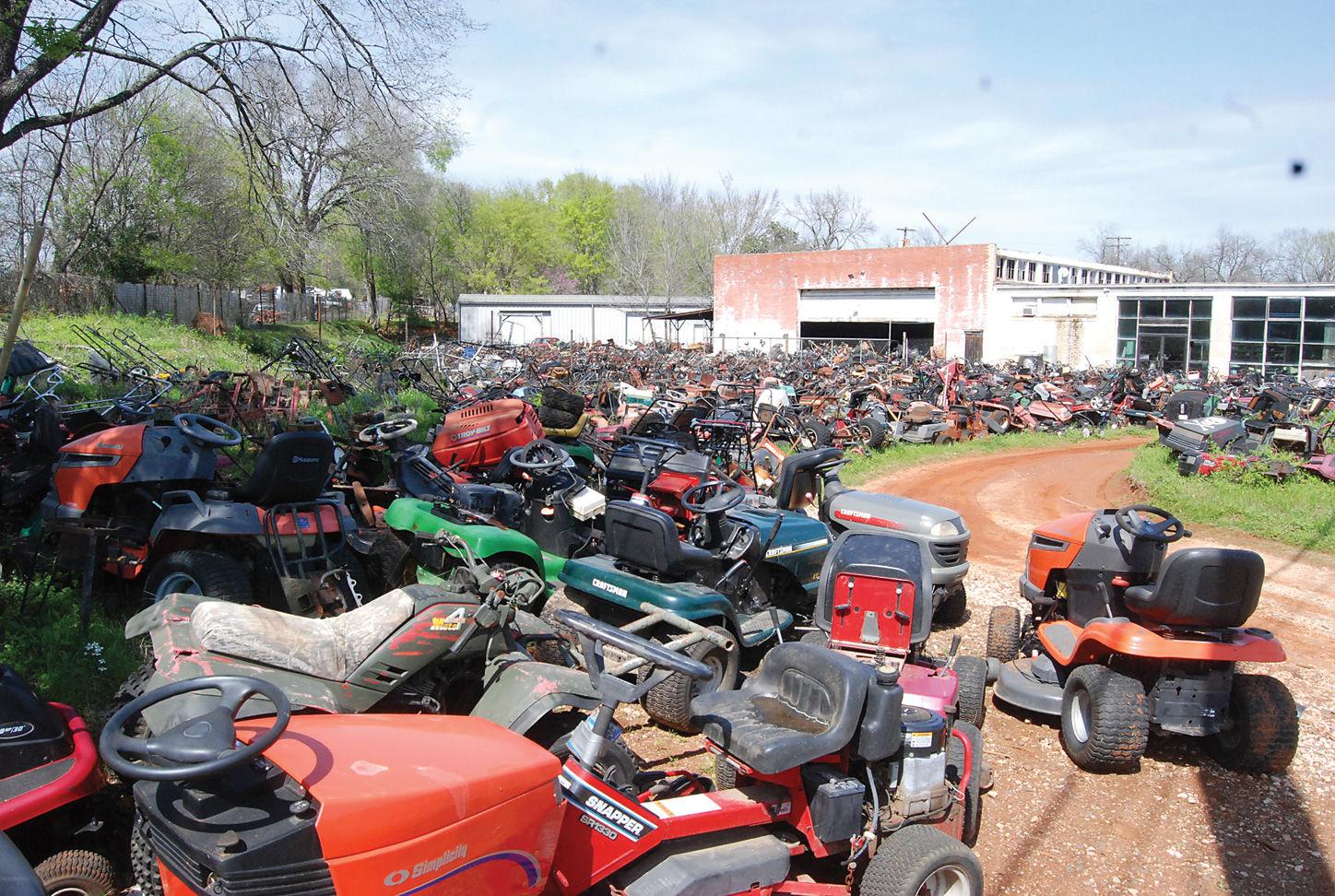 The indignity as a citizen, Laza, pays the plaintiff (Palestine) that pays Laza's current adversary (TML) with his money, your money, tax money. It is such a distant thought in the minds of the Palestine City Council they no longer care to hear updates. They never even put it on the City Council Agenda and when it last was, they ignored it. Laza has become the defendant being sued using his own money. Then the City backed by attorneys covered by insurance they buy through Texas Municipal League. TML lobbies against any and every tax break and teaches city official how to squeeze every dime it can by raising taxes and cost of services.
If you think that there is an easy path to bring justice when this entity does not follow "The Law" you would be wrong. They have forgotten who pays their salaries. How would you like to know that we also pay them to fight us on every law that would benefit our pocketbooks? They do not even pay taxes. They have a non-profit status.
Why should this matter to you? It should matter to you because the ruling by every level of the Judicial System on the Laza case are beginning to resemble "too powerful to lose."   A win for Laza on any level will make it harder for Texas Municipalities to assert power without additional scrutiny. It will force them to adhere to a higher level of procedural process, a higher level of check and balances. It would give the tax paying citizen more power to push back against overbearing scrutiny by local governments managed by Texas Municipal League. Furthermore, incorporated Texas Cities rely heavily on Strategic Government Recourse, a company highly promoted and supported by TML, to do everything from recruiting high ranking City employees to planning, engineering infrastructure.
Does the Municipal Government have to follow the Texas State Laws? Presently they get a pass. If the State Law says a Home-Rule Municipal Government, which is the City of Palestine, only has the powers adopted into the City Charter, is that the case? Or can they file suit under a State Code that has not been adopted such as TLGC 54.012 as they did in the Laza lawsuit? Both the State Court and Federal Court gave them a pass…  Why? Texas Municipal League owns the attorneys presently prosecuting and defending the Laza lawsuits. These attorneys are profiting from our tax dollars.
If the State Law places exclusive jurisdiction for enforcement of City Ordinances with the Municipal Court, is the Municipality allowed to bypass the Municipal Court and file directly in the State Court? According to the rulings in the City of Palestine vs. Laza the City of Palestine has been allowed to do whatever it wants.
Drilling it down to the next level. The Texas Municipal League is so proud of the job that Attorney Ron Stutes did for the City of Palestine on the Laza case, they invited him to give a continuing education class on the case. Left out of the training were facts that would lead a Home-Rule Municipal Government down a slippery path of Civil Right violations. That is, if the City of Palestine vs. Jerry Laza District Court ruling is overturned by the Appeal. According to the Palestine's City Charter the City Attorney reports directly to the City Council. While I would question whether Ron Stutes was the City Attorney because the City's contract is with Potter Minton, the Law firm that employs Ron Stutes. The City of Palestine issued payment to Potter Minton, not Stutes. Attorney Ron Stutes admitted under oath during the Laza State trial that he had not gained permission from the Palestine City Council to file a lawsuit. If your own attorney admits he was wrong, why do the rulings keep going his way?
State and Federal Courts have now both ignored the issue of authority, right or permission. So, will that leave an open door for contracted employees to act with implied powers of authority just because they have a title and are paid by tax funds? Again, two Court have ruled in favor of the City on the issue of Authority to file suit. There is no other place in the world where you can go and file a lawsuit as an employee and tell your boss they will pay for it.
The law is written in black and white. Obviously reading and comprehending is a bit more difficult. Could there be an even bigger insidious level or protection being afforded to tax funded political lobbying?
Home-Ruled Municipality are governed according to the powers adopted into the City Charter from the Texas Local Government Codes. According to the Texas State Constitution the City Charter is the equivalent of the City's Constitution. Codes and Ordinances, city laws, are within the exclusive jurisdiction of the Municipal Court. As the City of Palestine accepted a City Council – City Manager form of government according to its City Charter the authority to file suit would need to come from the City Council. Like it or not those are the facts. In the case of delegation of authority, any action taken beyond what has been authorized by the city council is void. Foster v. City of Waco, 255 S.W. 1104, 1106 (Tex. 1923).
Most every City in the Texas belongs and pay membership to the Texas Municipal League. TML is a non-profit lobbying association made up of Texas Attorneys. Most all those City also purchase insurance coverage through TML. Liability insurance coverage. This membership pays for taxpayer funded lobbying that opposes limitation on Government. They advocate for lesser penalties for violation of the Texas Open Meeting Act and lobbies against citizen rights. It would not be a stretch to say they believe local government should be allowed to do what they want. Be accountable less, spend as they choose, best of all, do it with your money. As residents have seen major property tax increases this year, it will felt by individuals already dealing with an increase in cost of living. City of Palestine citizens does it make you angry and frustrated to continue to pay higher city and county property taxes while having water you cannot drink, less services and pothole ridden streets? It does, doesn't it?
Brutally apparent during one of the last hearings in the Federal Court of the Laza vs. City of Palestine when Laza's Attorney, Warren Norred, argued against the expense of another mediation, three mediations have been previously attempted and failed. The TML lawyer representing the City of Palestine had absolutely no issue with the additional cost of $10,000. Why would they? The City of Palestine has already spent approximately one million in taxpayer funds prosecuting this case. What is another $10,000, $20,000 or $100,000? TML is spending nothing but tax-payer funds. They cannot afford lose, then they might have to play by the rules. Texas Municipal League is privileged with the use of your money to protect their power. Of course, the mediation once again failed. They honestly believe they owe this man nothing.
What does it really mean to go to mediation? It is brutally apparent that both sides believe in their stance, and one has nothing to lose including money. In another case that has been the highlight of TPC also recently went to mediation within the Appeal process. Sadly, the money spent was only to find that to enforce one side to uphold the agreement you must file a Civil Suit in the District Court. Astonishing. Laza could face the same outcome in the Appeal Court, they could rule on the briefs, not rule on the brief, order mediation, or even send the case back to retry in District Court. It appears that if Laza can stay in the game financially he seems determined to fight this all the way to the Supreme Court.
Reading the pleading and rulings filed in Jerry Laza's Civil Rights violation case being heard presently in the Tyler Federal Court, the two main complaints that could be decided by a jury are violations of the Texas Open Meeting Act and violation of Procedural Due Process. Two issues that Texas Municipal League will not take lightly. TML advocates for less restrictions and penalties for violations of TOMA, asserting that the rules are restrictive and keeps City Councils from freely governing. Clearly ignoring the fact that the City Council is voted in by constituents that expect elected official represent them. Do we really want elected official meant to represent us to be able to hide behind closed doors?
Also, Laza's case having a favorable ruling on the Procedural Due Process violation will give a deeper bite to the City of Dallas vs. Stewart case law that solidified that law cannot be decided by non-judicial boards. In a cruel twist it was the Stewart case that set the procedural due process for the legal use of TLGC 54.012 that Ron Stutes took from state code as grounds to file suit against Jerry Laza without meeting the litany test. And the same set of procedural process as not to violate civil rights that the District Court ignored. A Supreme Court ruling that brought enough attention that TML teaches classes and has drafted instructional papers for many City Attorneys.
Laza still has an Appeal of the District Court case pending in the Texas Court of Appeals. His attorneys have filed their brief. The City's (TML) brief is due on May 23, 2022. The very same issues are at stake. It would not be surprising to see an amicable brief submitted by TML in the Laza case.
Let us not forget the injurious behavior of the City of Palestine elected officials that continued to ignore the fact the lawsuit was never authorized and could have stopped it at any time. Seriously, their own Attorney, Ron Stutes, stated they never gave me permission, but they also never told me to stop.
While it seems that Laza is committed to see this case all the way to the Supreme Court, Texas Public Corruption would like to see all the rulings go in favor of Jerry Laza because this whole case is wrong. It would be even better if anyone of the Official or Attorneys were following an Oath of Office or even appear to care about the blue-collar worker standing before them being abused by the City of Palestine and a taxpayer funded lobbying, Texas Municipal League, "too powerful to lose."