Texas man allegedly burglarizes home, mows the victim's yard then escapes police in a foot chase
Home surveillance video captured the suspect doing some yard work during the alleged robbery
A Texas man is on the run after being caught on home surveillance video allegedly burglarizing a residence and running from police, but not before he mowed the victim's back and front yards, according to the Port Arthur Police Department. 
Marcus Renard Hubbard is accused of burglarizing the southeast Texas home on the evening of April 1.  April Fools Day!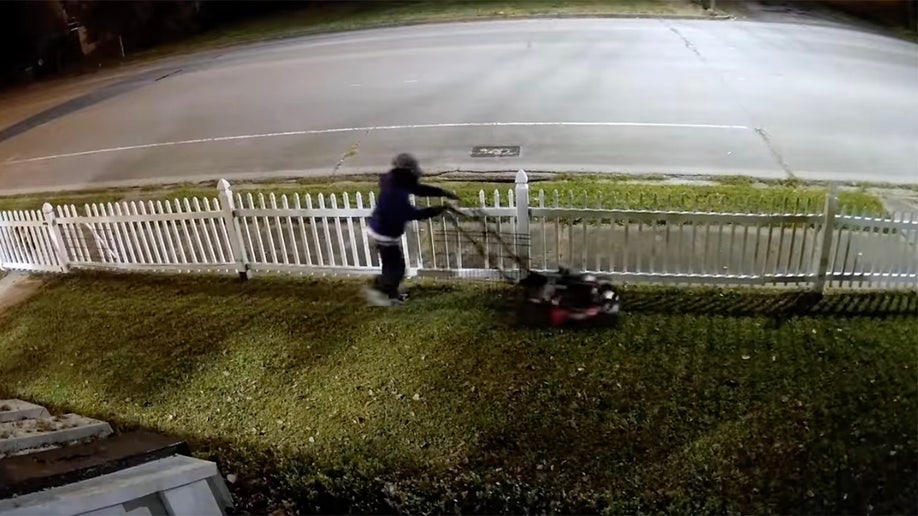 \
Officers arrived at the home and chased the suspect, who pulled the lawnmower behind him before ditching the lawn equipment in a nearby alley and continuing his escape. Hubbard is now wanted for burglary of a building. Anyone with information about his whereabouts can call the Port Arthur Police Department at 409-983-8600. 
Texas Rangers have organized a Task-Force to apprehend the suspect stretching from the Louisiana border to El Paso.
In time, the Rangers say,  other relatives of the suspect some in Texas, others in Louisiana, have begun communications with  law enforcement.
But in recent weeks, he said, it became clear to him that family members were feeling a growing pressure, based on "the overall severity of the case and the publicity" and that they began to fear for the suspects own safety as the target of the search.
Finally, he said, the fear and the family's trust spurred them to open a dialogue about surrender. That's what led to the phone call from the lawnmower shop.
By late evening, the Rangers had reached Albuquerque but still only expecting, he said, to learn something of the suspects whereabouts.
"In time," he said of his meeting with Television journalist, "the family continued to communicate, and it was relayed back that they wanted to do something."
We have spread the story of this crime all over Texas.  It has received more publicity than an armed escaped killer with a hostage. Fox News, 48 Hours, NBC and CBS.. Hell we got a spot on CNN too.
Anyone with information about his whereabouts can call the Port Arthur Police Department at 409-983-8600. 
The suspect in a telephone interview with FBI Hostage Negotiator exclaimed repeatedly it was just an April Fools prank on extended family.  When asked why he was pulling the old push lawnmower that is the nuclease of the burglary charge? The suspect claims it needed an adjustment that he intended to repair and return the following day.