by Karen Leidy 
FILED WRIT UNEARTH'S REVELATIONS FEATURING DEFENSE ATTORNEY, PROSECUTOR, JUDGE AND SON
Update: Attorney Fee Vouchers for court-appointed Defense Attorney, Mr. Mark Cargill, Exhibit 65 and 66, have been recently filed with the court.
Update: As of 9:47 a.m. on Thursday, July 16, 2020, Judge Deborah Oakes Evans has voluntarily recused herself from presiding over this matter of the writ for habeas corpus.
Update: State has issued a response to the writ for habeas corpus, filed Wednesday, July 15, 2020. Look for the update in the Freestone County Times.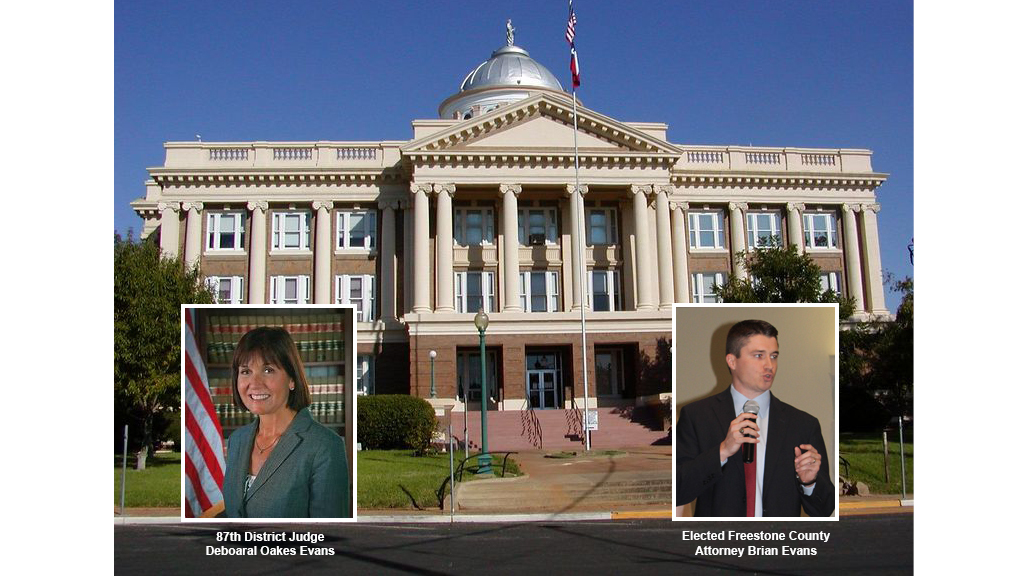 A mother and her son, 87th District Judge Deborah Oakes Evans and Freestone County Attorney Brian Evans, are among those named in an Application For a Writ of Habeas Corpus Seeking Relief From Final Felony Conviction Under Code of Criminal Procedure regarding a 60-year-old Anderson County man, currently serving out a 60-year prison sentence at the Wynne Unit in Huntsville, Texas.
Filed on Friday, June 12, 2020 by attorney David E. Moore, the Application for relief cites ineffective assistance by defense attorney, and outlines grounds for relief, including the failure to disclose a close familial relationship between judge and prosecutor.
This is especially relevant as Judge Evans was a last minute substitution for 349th District Judge Pam Fletcher, who had presided over all matters in this case, up until the morning of the jury trial.
In fact, at 8:45 a.m., the defendant filed the election to have the Court decide punishment – with the assumption that Judge Fletcher would continue as presiding judge – in the event of a conviction by a jury of his peers.
Fifteen minutes later, at approximately 9:00 a.m., Judge Evans made her appearance, on the bench, for the first time.
Arrest
Mr. Richard Gross, a black man from Anderson County, was arrested at a residence in Elkhart, Texas on January 12, 2014 when officers responded to a disturbance.
According to trial testimony, the defendant appeared to be talking to someone, although there was no one around. Police report describes Gross as holding a rope in one hand and a child's chair in the other, unsteady on his feet and speaking incoherently.
On cross examination, one of the arresting officers testified that Gross might not have understood the officer's commands.
A trooper, also responding to the scene, testified that Gross might have been intoxicated because he was not acting normal, but was loud, screaming, and hollering somewhat incoherent.
According to reports, Gross was eventually subdued by taser and arrested at the scene. After being cleared by Emergency Responders, officers went to place Gross into the patrol car when he bit one of the officers through his pants leg, drawing blood.
Trial, Conviction & Sentencing
Court proceedings commenced with jury selection on Monday, July 13, 2015 in the 3rd Judicial District Court of Anderson County, Texas. The charge against Gross was entered as Assault on a Public Servant.
Attorney for the defense, appointed by the court, was Mark W. Cargill of Palestine.
Prosecutor was elected County Attorney Allyson Mitchell.
Mitchell introduced Brian Evans as her assistant for the trial, saying, "Brian is a misdemeanor attorney in my office. He has been a prosecutor for six months and a few days…My mom always taught me the best way is to be exposed to something to learn from it."
At no point, in the court transcripts, is the relationship disclosed between the son, prosecutor Brian Evans, and the mother, presiding judge, the Honorable Deborah Oakes Evans.
The trial proceeded without delay, with assistant prosecutor Evans noted in court transcripts as having examined the second witness for the State's case.
Gross was not called to testify on his own behalf, and no witnesses were called by the defense.
Following closing arguments, the jury took approximately 14 minutes to determine that Gross was "guilty as charged." The verdict was signed and entered into court records at 2:39 p.m. on Tuesday, July 14, 2015.
Judge Evans did appear to have some concerns about possible mental health issues as, upon ordering the mandatory PSI (Pre Sentence Investigation), she stated in court that, "There's some issues with some maybe some—mental issues possible in the past that might be appropriate to my sentencing…"
Gross told the investigator conducting the PSI of mental health issues, including a diagnosis of a personality disorder in the mid-1990's and more than one psychiatric treatment in the hospital. However, during the punishment phase of the trial later that October, the investigator testified that no attempt was made to independently verify this information.
In addition, when the investigator testified under cross examination that Gross was on Social Security Disability, they further admitted to not verifying whether it was for a personality disorder, as claimed by the defendant.
Gross did take the stand during the sentencing phase, but Defense Attorney Cargill failed to ask about any mental health issues, and never asked a single question regarding Gross's prior psychiatric diagnosis, treatment, hospitalization, or medications.
The defense attempted to call one witness during the punishment phase, telling the Court he has actually forgot the witness's last name, and then admitted upon the witness stating his name that Cargill had subpoenaed the witness using the wrong first name and had not really spoken with him before trial.
The witness, a self-described fishing buddy, testified that he knew of no anger or violent tendencies of Gross in the five or six years of knowing him.
In closing argument, the defense attorney asked the court to consider Gross' purported psychiatric history as mitigating circumstance, along with his client's disposition the evening of the incident. "As the video shows, he didn't seem to be in his right mind," said Cargill.
According to local news reports that covered the sentencing hearing, Judge Evans expressed shock upon watching the video of the incident which was shared during the trial.
In the end, the court, under presiding Judge Evans, assessed a punishment of 60 years imprisonment.
Interestingly, the subsequent court records, entered on Friday, October 23, 2015, lists the offense as Aggravated Assault Against a Public Servant, which is a more serious crime than that was charged during the original jury trial conviction.
Appeal
Immediately after sentencing, presiding Judge Evans verbally advised Gross of his right to appeal, and then appointed trial counsel, Mark Cargill, as his appellant counsel.
Notice of appeal was submitted within thirty days on Tuesday, November 17, 2015 to the Twelfth Court of Appeals. Cargill submitted an argument that had failed his previous clients on at least forty other occasions.
Assistant prosecutor Brian Evans wrote a Brief on behalf of the State of Texas, and on Wednesday, July 20, 2016, the conviction was affirmed.
Gross then filed a Pro-Se Petition for Discretionary Review which was denied without a hearing on Wednesday, December 14, 2016.
Making a Case for Writ of Habeas Corpus
The latest Application for a Writ of Habeas Corpus, filed three weeks ago by Pro Bono attorney David E. Moore of Groesbeck, is the final possible remedy for Richard Gross.
Ineffective assistance of counsel is asserted in the Application, with four grounds for relief outlined.
–Ground One:
Ineffective assistance of counsel by failing to investigate and present mitigating evidence of mental illness and / or the defense of insanity.
As the Application stipulates, the bizarre behavior exhibited by Mr. Gross, when the arresting officers arrived to the scene, should have been sufficient to cause the defense attorney concern for his client's mental state, existing at the time of the arrest. Trial counsel should have requested the assistance of a mental health professional to determine Applicant's mental state at the time of the offense.
The defendant informed his attorney, and later, an investigator conducting the PSI, that he had mental issues.
Nonetheless, it appears from the records that no attempt was made to corroborate any such psychiatric diagnosis, treatment, hospitalization, or medications to present as evidence in court.
In addition, multiple vials of blood were drawn from Mr. Gross following his arrest, for analysis of any possible diseases that could have been transferred to the victim in this case.
Yet, at no time were the samples examined for signs of intoxication, which could have proven what Goss had maintained all along, that he was not under the influence of intoxicants at the time of the incident, but may have been suffering from a psychotic episode due to mental illness, instead.
These failures, on the part of the Gross's attorney, negated the possibility of an insanity defense during trial, and yielded zero evidence of insanity during the punishment phase.
–Ground Two:
Ineffective assistance of counsel by not filing a Motion to Recuse / Disqualify the Judge because of a mother-child relationship between the Judge and the prosecutor.
The U.S Supreme Court has established that "a fair trial in a fair tribunal is a basic requirement of due process."
Presiding Judge Evans admonished the jury during Mr. Gross' trial that they should come into court without an opinion. As the trail transcript reads, Judge Evans expressly stated that, if one of the parties is "kin to – it's your brother or your sister – I guess that could be good or bad depending on the relationship, but you'd probably have an opinion…"
This apparently was not applied on the part of the Judge, in this case. Yet, according to the American Bar Association's Model Code of Judicial Conduct, a judge is required to disqualify themselves in any proceeding in which the Judge knows that the Judge's son will be acting as a lawyer in the case.
Indeed, perhaps the strongest of familial bonds would be the mother child relationship.
And in fact, when the son and the mother are the lawyer and the judge on the same case, recusal is mandatory.
This is spelled out in the Texas Rule of Civil Procedure, and further, the Court of Criminal Appeals has held that these Civil rules also apply to Criminal cases, in the matters of recusal and disqualifications. It is also addressed in Article V, Sec. 11 of the Texas Constitution.
While there are provisions where the parties involved my waive any ground for recusal, the familial relationship must be fully disclosed on the record, for that to occur.
At no time during trial proceedings was the relationship between the mother, presiding Judge Evans, and the son, prosecutor Brian Evans, revealed in court.
And, although both were known professionally by Defense Attorney Cargill, at no time did he inform his client of the relationship or inform him of the possibility of recusal.
Further, this Application asserts that prosecutor Brian Evans entered into a hotly contested race for Freestone County Attorney, and following the assessment of a 60-year sentence, first referenced this case in January of 2016 at a political forum hosted by the Freestone County T.E.A. Party.
Mark Cargill, Brian Evans, and Anderson County Attorney Allyson Mitchell were social media friends. Mitchell and Judge Evans reportedly vacationed in Europe together just before this trial took place.
Following the concluding sentencing, Brian Evans visited the home of his mother, the Judge, for Thanksgiving holiday. An event no one would normally criticize, except perhaps a defendant who might be inclined to believe the appearance of impropriety may have affected his ability to receive a fair trial.
Mitchell was a public proponent of Brian Evans winning the election in Freestone County, and following a successful campaign, is pictured in the newspaper at his swearing-in ceremony by his mother, Judge Evans, in January of 2017.
Although Freestone County Attorney Evans had constantly reassured voters that he could prosecute cases in front of his mother, Judge Evans, just as he had successfully done in Anderson County, events transpired differently.
First, Judge Evans sent a letter to thirty-three attorneys, who regularly practice in Freestone County, stating that she was formally disclosing the mother son relationship, as required by her Judicial rules and obligations, and always being aware of the appearance of impropriety.
The letter further placed the burden on defense counsel to file motions to recuse her from presiding over cases where her son was the elected Freestone County Attorney.
Motions were filed, and in the end, Judge Evans no longer presides over criminal matters in Freestone County, including the Grand Jury, while her son, Brian Evans, is the elected County Attorney.
Mr. Richard Gross was never afforded this opportunity.
The Application asserts that, had Mr. Gross known the presiding Judge's son was the prosecutor in his case, and would later use his trial and subsequent conviction in campaign forums and political advertisements, his Defense Attorney, Mr. Cargill would have been instructed to file a Motion to Recuse and/or a Motion to Disqualify Judge Evans from the case.
The other participants in this trial knew, and yet silently allowed this "travesty" to take place.
–Ground Three:
Ineffective assistance by counsel by claiming a point of error when Appellant Counsel had 40 times previously been admonished for not preserving error.
Defense Attorney Mark Cargill was appointed by presiding Judge Evans to continue representing Gross through the appeals process. The Application asserts that it would have been better for his client had Cargill withdrawn to allow for another appellate lawyer to examine his trial performance more objectively.
Instead, attorney Cargill wrote on only one point of error – a point of error, reads the Application, "…that he knew was not going to be successful because he cut and pasted the same brief in approximately forty other unsuccessful briefs."
Further, Cargill had reportedly already been admonished each of these forty times by the appeals court about not preserving error in the trial court.
Specifically, Cargill attempted to appeal the case by arguing that Gross's sentence was unconstitutional as it was grossly disproportionate, when in fact he knew the sentence was well within the punishment range prescribed for that offense, which had been elevated (during the trial and when Cargill served as defense attorney) in line with Gross's history as a habitual offender.
As the Application argues, Cargill chose to raise a point of error that was not viable, thereby sealing Mr. Gross's fate.
–Ground Four:
Ineffective assistance by counsel by not correcting the judgement that shows the wrongful conviction of Aggravated Assault Against Public Servant.
Gross was convicted by a jury of his peers for the offense of Assault on a Public Servant, as charged in the indictment.
However, the Judgement of Conviction, issued following the 60-year sentence, shows the offense as Aggravated Assault Against a Public Servant, a more serious crime.
This incorrect judgement is also listed with the Texas Department of Criminal Justice (TDCJ) where Gross is currently incarcerated.
Essentially, this error has caused Mr. Gross to be classified wrongly by TDCJ, and affects his parole eligibility dates and status with the Parole Board.
For those interested in reading more about this case, links to court documents are provided below:
Click here to learn more about how the appeals process works in the State of Texas.
Below are transcripts of the original trial of Richard Gross in Anderson County, Texas:
Trial Transcript – Vol. 1 of 5
Trial Transcript – Vol. 3 of 5
Trial Transcript – Vol. 4 of 5
Trail Transcript – Vol. 5 of 5
Note Judge Deborah Oakes Evans also presides in Leon County Texas where her son, Freestone County Attorney Brian Evans close friend James Caleb Henson is the District Attorney.  Caleb previously was a frequent guest at the family home.  Does Judge Deborah recuse herself from cases in Leon County tried by Caleb?