For a man who ate Grievances from Judge George Allen AND Judge Groping Walter Smith, way back when, none from clients just Judges, Vic Feazell has come a long way.
Today he was sworn in as a member of the McLennan County Grievance Committee which includes Bell and Falls County.
Feazell also had State Bar file a Grievance on him after he was acquitted. This year, however, State Bar decided that they regretted that one and gave him a Lifetime Achievement Award.
Now, I have to say, that THIS move, putting Vic Feazell on the Grievance Committee is so surprising, at first I thought he was kidding. They used to just HATE HIM, happily, now many are dead, some, like Judge Dastardly Walter Smith, are forever gone, and this was the biggest "who knew" I've had in a long time.
https://www.withviclegal.com/blog/2021/may/state-bar-of-texas-officially-honors-attorney-vi/
State Bar of Texas Officially Honors Attorney Vic Feazell
One thing is for sure, an attorney who has a Grievance against him or her can rest assured Vic's been on all sides of the Grievance Committees and you can bet he'll be more than fair.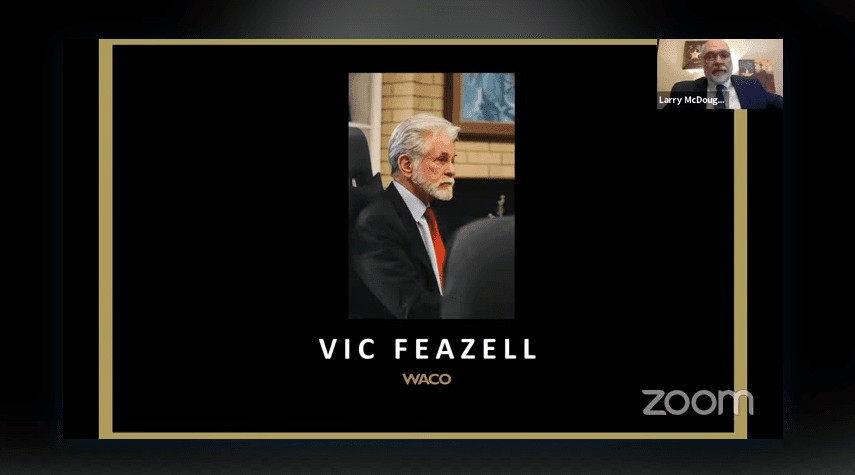 State Bar of Texas Officially Honors Attorney Vic Feazell
Attorney Vic Feazell, the founder of the Law Offices of Vic Feazell, P.C., is a recognized name in communities and legal circles throughout Texas. But you don't need to take our word for it, not when the State Bar of Texas has recently honored him in an official resolution.
In April 2021, the Texas State Bar issues an official resolution to honor Attorney Feazell for his decades of remarkable legal service, both to the state and to its peoples. In the resolution, some of his most noteworthy experiences, accolades, and cases were discussed.
For example, a few exemplary moments of Vic's career that were featured in the resolution are:
Licensed attorney since 1979

Six capital murder cases handled while a McLennan County district attorney

$58-million verdict in a record-breaking libel lawsuit

Memberships to the Texas Bar College, the National Trial Lawyers, and the National Association of Criminal Defense Lawyers

2018 Outstanding Pro Bono Advocate Award from the Waco-McLennan County Young Lawyers Association
The Texas State Bar also offered an official apology to Vic for the harm done to his law license decades ago during the Henry Lee Lucas false serial killer accusations scandal. Attorney Feazell adamantly stood up for Henry, who had been deliberately made a scapegoat for hundreds of murders by the Texas Rangers. In retaliation, the Rangers arrested Vic, attempted to destroy his reputation, charged him with five crimes, and threatened him with 80 years of imprisonment. After Vic was found Not Guilty on all charges by a Federal Jury, the Texas State Bar still made moves against his law license, which he deflected with a probated suspension. Vic successfully sued a news corporation for libel, which resulted in the largest libel verdict in U.S. history and its placement in the Guinness Book of World Records.
The President for the Texas State Bar had this to say while issuing the formal apology: "[Vic's case] is one where somebody stood up, did the right thing, stood his ground, and, in time, has been proven right. Two juries have proven him right. And this is why I honor Vic because he did do the right thing. […] He stood up for the oppressed. […] If there's anybody who deserves an award for doing the right thing, I believe it's you."
(Inquiring parties can learn more about this entire incident by watching "The Confession Killer" on Netflix.)Volume 90% 
From all of us at the Law Offices of Vic Feazell, P.C., we want to send congratulations to Vic for this fantastic achievement. We also want to give sincere thanks to the Texas State Bar and all of its members who helped make this moment possible. Thank you for believing in Vic and recognizing all the great things he has been able to do throughout his career!